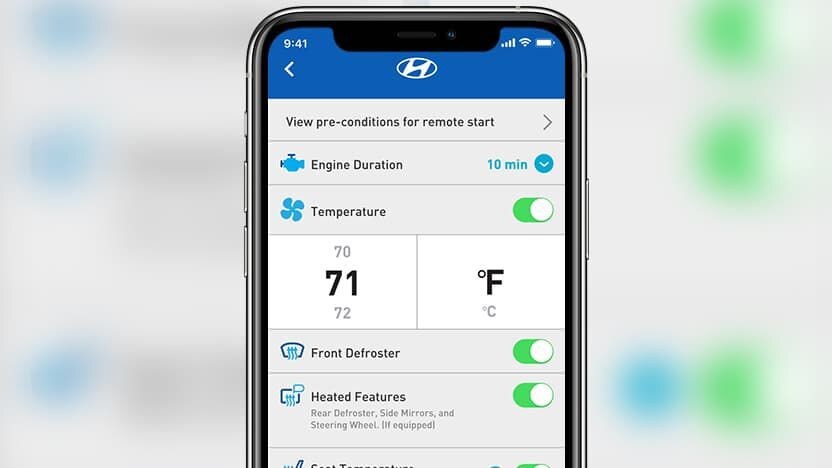 Owning a vehicle is a big responsibility, but we want to make it easy for you. With the new Hyundai Blue Link® app, you can easily manage your vehicle from anywhere. Designed to make owning a new Hyundai vehicle simple and stress-free, Hyundai Blue Link® is the perfect addition to keep you connected.
Remote Lock & Unlock: Using the app, you can unlock and lock your vehicle remotely. Simply enter a PIN number and use your smartphone, mobile device, or even home device to control your vehicle.
Control the Climate: Climate control of your Hyundai Elantra is even easier with this app, since you can use voice command or the app to remote start your vehicle's engine and adjust the A/C and heating unit.
Remote Start and Car Finder: With Hyundai Blue Link®, you never have to remember where you parked. As long as you're within one mile of your Hyundai vehicle, the app can direct you to your vehicle. Once you spot your vehicle, you can turn it with just a few taps.
Assistance, Alerts, & Diagnostics: Check to see your vehicle's current state from inside the Hyundai Blue Link® app. Monitor your vehicle's engine health and even schedule future service appointments. If you get in an accident, you can even send an assistance alert through the app.
One great feature of the Hyundai Blue Link® app is that you can shop for a new Hyundai car from your device. You don't have to stop by our Virginia Hyundai dealership since you can just log on to the my Hyundai Blue Link® app and start the process! Still have questions? Reach out to our team at Hall Hyundai Newport News to get more information. We can't wait to help you out!