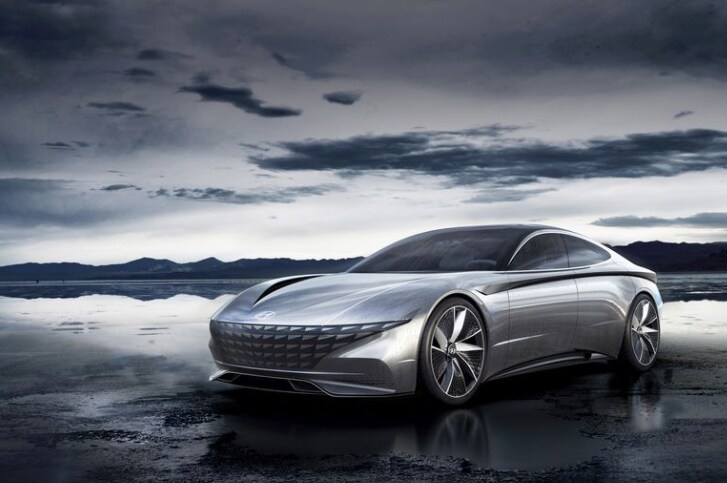 Here at Hall Hyundai Newport News, we're always excited when an auto show rolls around. We get to see some new cars, along with some unique concepts that could have far-reaching effects on every model in the Hyundai lineup. One such concept is the Le Fil Rouge, which just made its debut at the Geneva International Auto Show. If you love Hyundai cars, you'll want to pay some attention to this unique concept.
"Le Fil Rouge" means "red wire" in French, but the Hyundai brand is interpreting it a little differently. They are calling this concept the "common thread" because it represents the designs of the past, present, and future, showing how they are all connected. It takes inspiration from the first Hyundai concept car, known as the HDC-1, and it will serve as an inspiration for the Hyundai cars of the future.
It starts the age of a new design mantra known as "Sensuous Sportiness" and every vehicle in the Hyundai lineup will be influenced. Whether you're driving a 2018 Hyundai Sonata or an SUV like the 2018 Hyundai Santa Fe, the future versions of each will be guided by the design of the Le Fil Rouge Concept.
That's not bad news either, considering how sleek this sedan looks. It has a low wheelbase, big wheels, a low sloping roof, and other touches that give it a sporty look. You'll probably see other Hyundai models with the Le Fil Rouge concept's wider hood, cascading grille, and other stylish features. The interior of this concept is also impressive, with extra legroom for the passengers and features that make driving even more fun. We can't wait to see how this concept influences our favorite Hyundai models in the future.
So visit our Hyundai dealership near Norfolk, VA to find a stylish new car that you can depend on. We'll make it easy to find a model that suits your budget and driving needs. We hope to see you soon!